Wax Wheel Kit
Kit Heater Applicator 220V with RollOn 100 ml + Accessories
Armpits
Bikini
Face
Body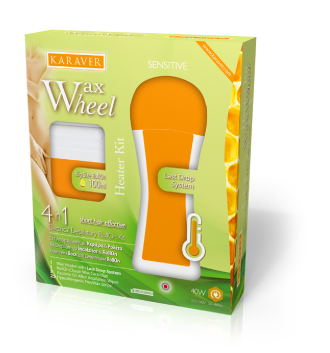 The Karaver Heater Applicator is a machine used to warm up the
Roll On
as well as any other
Roll On of 100ml
. It has a control window, to see the amount of the remaining roll on wax without having to remove it for that purpose.
Remove the "wax Heater Applicator" from its packaging, remove the lid and the power cord which are located inside the package. Connect the smaller end to the device's power connector located at the bottom and the other end connect to a power supply outlet.
Put the Roll on within the Wax heater Applicator and place it on a consistent basis upright and without any other intervention let it warm up for about 25-30 minutes, depending on the environment's temperature.
When the Roll on is ready, remove the plug from the outlet, wait a few minutes and then start the application in the area you wish to depilate, applying the wax in the direction of the hair growth. Put the device in a safe and stable basis. Place a Nonwoven Karaver depilatory strip in the area you applied the Roll on and press lightly to stick properly. Holding the skin stretched, take one end of the strip and pull it with a sudden movement, opposite to the direction of the hair growth. Remove any remainings of the wax, using the same strip, sticking again and pulling. Note that the same depilatory strip can be used more than once.