Hair Vanish Face
Depilatory Facial Cream Extra Sensitive
Subsuoară
Bikini
Față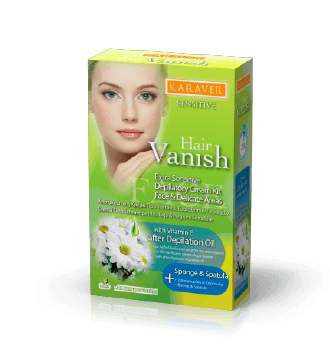 The depilatory cream "KARAVER Hair Vanish Extra Sensitive" is the perfect solution to eliminate quick and easy the unwanted hair from Face, Underarms, Bikini line and generally is suitable for delicate areas. The KARAVER Hair Vanish Depilatory cream with its extra sensitive formula and vitamin E, reduces the risk of skin irritation and offers perfect results after 5 minutes. Enriched with 100% natural Chamomile extract (soothing and anti-inflammatory), protects and cares for even the most sensitive areas such as the Face the Armpits and the Bikini line.
DERMATOLOGICALLY TESTED, NO DYES AND NO PARABENS.
The Kit Contains:
1 tube of "Hair Vanish" depilatory cream (50ml)
1 plastic small precision spatula (for face)
1 plastic large spatula (for armpits and bikini line)
1 special sponge (for armpits and bikini line)
3 after depilation tissues, with Azulene Oil natural extract
1 Instructions leaflet
Aqua
Cetearyl Alcohol
Paraffinum Liquidum
Cetyl Alcohol
Propylene Glycol
Urea
Calcium Hydroxide
Thioglycolic Acid
Potassium Hydroxide
Chamomilla Recutita Flower Extract
Bisabolol
Butyrospermum Parkii Butter Extract
Tocopheryl Acetate
Tocopherol
Ascorbyl Palmitate, Lecithin
Butylene Glycol
Glucose
Glyceryl Oleate
Glyceryl Stearate
Sodium Cetearyl Sulfate
Disodium EDTA
Lactic Acid, Citric Acid
Caramel
Ethoxydiglycol
Potassium Sorbate
Sodium Benzoate
Parfum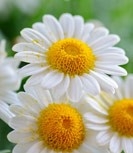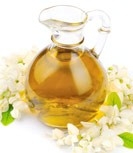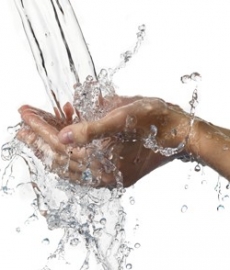 For Face use the special small precision spatula, for Underarms and Bikini areas the large spatula.
Take a proportional to the spatula amount of cream and spread a thick layer onto the area you wish to remove the unwonted hair, evenly to fully cover the hair (pic1).
Action time
The required action time may vary, depending on the type and thickness of the unwonted hair. Leave the cream for 5-6 minutes, timed carefully (pic2) and then clean with the small precision spatula the cream from a small area, as a patch test.
If the hair are easily removed, then…
using the small precision spatula, remove the remaining cream with the unwonted hair, if it is the Face
or
use the special sponge, rubbing gently, to remove the cream with the unwonted hair from Underarms or Bikini areas (pic3).
In the case that the unwanted hair isn't easily removed, leave the cream on for a few more minutes;
NEVER EXCEED THE 10 MINUTES as in total application.
Rinse the epilated area with lukewarm water and gently wipe it. Do not rub the depilated area and do not use soap.
Finally, apply the KARAVER after depilation Azulene Oil with vitamin E tissues to keep your skin smooth and soft (pic4).
Close the tube well after each use, to keep the product in perfect condition.
That was it… so easy!