Free Wax Strips
Non-Woven Strips Reusable / 80gsm
Armpits
Bikini
Face
Body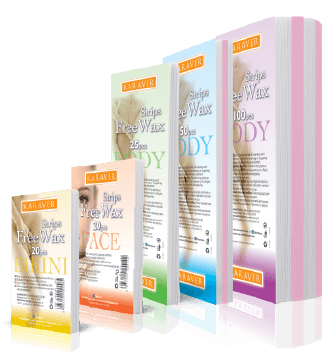 The Karaver Non-Woven Free Wax Strips is a product that can be used with any Sugar or wax depilation. Available in a wide variety of sizes and colors (25 pcs., 50pcs, 100 pcs., Face 2x10 pcs, Bikini 20pcs, Roller 70x100 m), excellent quality of 80g, particularly selected for our consumers. Also available in rollers of 50 and 100 meters, suitable for professional use.
Excellent quality non-woven fabric robust, hygienic lace, 80g / m2.
Color: White, Pink
Steps



Place a Nonwoven Free Wax strip in the area you applied the wax and press gently to stick properly.
Holding the skin stretched, take one end of the strip and pull it with a rappid movement, opposite to the direction of the hair growth.
Remove any remaining of the wax, using the same Strip, sticking again and pulling.
Note that the same depilatory strip can be used more than once.