Free Wax Strips
High quality, reusable non-woven wax free strips
Underarm
Bikini
Face
Body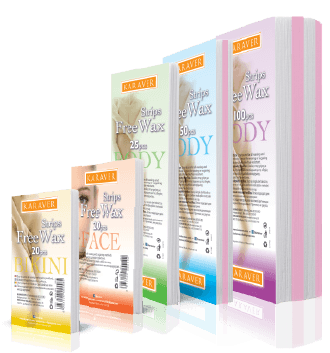 Karaver's FreeWax Strips are non-woven wax-free strips used for sugar or roll-on wax. Their high quality (80gsm) allows them to be reusable. They are available in a wide range of colours and package sizes:
Body

Face

Bikini

Professional
Robust, non-woven fabric
80 gsm



TIPS
The same depilatory strip can be used more than once;
Karaver's

FreeWax

Strips can be washed, dried and reused.
INSTRUCTIONS
Hold onto your skin and firmly pull the end of the strip in the opposite direction of hair growth;

Remove any residues by sticking the used strip over the remaining wax.