Wax Wheel Kit
Wax Heater Kit
Underarm
Bikini
Face
Body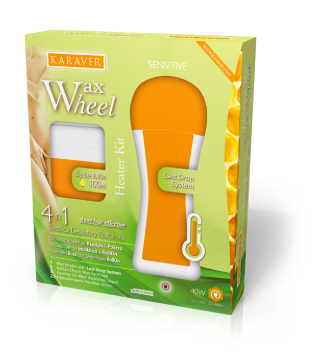 The Karaver Wax Wheel Kit contains a Roll-On Heater which is a device used to warm up Karaver's 100ml RollOn (Sugar or Resin) or any 100ml roll-on wax.
Provided with a control window, it indicates the amount of wax left until refill.
The kit contains:
1 wax heater;

Karaver 100ml RollOn;

5 Azulene Oil after-depilation wipes;

25 FreeWax strips.
TIPS
The area onto which you spread the wax should be smaller than the size of the FreeWax strip;
The FreeWax strips can be washed, dried and reused;

For best results, you may clean your skin further with a cotton pad dipped in alcohol.
INSTRUCTIONS
Remove the Roll-On Heater, the lid and power cord from its package. Connect the smaller end to the device's power connector located at the bottom and connect to a power supply outlet;

Place the

Karaver RollOn

or any other 100 ml roll-on

refill in the heater and let it warm up:

25 min for Karaver Resin RollOn and 30 min for Karaver Sugar RollOn;

When the roll on is heated remove the plug from the outlet;

Wait for a few minutes for the wax to cool down;

Apply a small amount of wax on the back of the hand to check the temperature of the wax;

Apply a thin layer of wax in the direction of hair growth;

Place a

FreeWax

strip over the wax and tap to stick;

Hold onto your skin and firmly pull the end of the strip in the opposite direction of hair growth;

Remove any residues by sticking the used strip over the remaining wax;

For smooth results, use the Azulene Oil After-depilation wipes to clean your skin.
CAUTION
Never pull the wax strip too close to the skin, but parallel and away from the skin.

Do not apply on sunburned, wounded, acne prone or irritated skin;

Do not apply to skin with eczemas, wounds, varicose veins, warts, or moles;

Do not apply if you suffer from diabetes and/or circulatory problems;

Do not use on nose, eyebrows, ears, nipples, genital or perianal area;

Do not use warm water, soap or alcohol to wipe any wax residues;

Wait for 24 hours before applying perfume, deodorant or sunscreen;

Wait for 24 hours before exposing your skin to the sun or going swimming;

Keep out of the reach of children.